You may, or may not, remember various posts I've done on here about my lovely bruv who runs marathons despite being 'middle-aged, unfit and fat' – his words and it's a lie because he's definitely NOT unfit – or that fat. Anyway, having seen his fine and shining example, watched him routinely raise over a grand, and given him a tenner each time, I thought maybe I should have a go.
I mean, how hard can it be?
Yeh. No. Actually I did know the right answer to that one.
As you may be aware, and if you aren't, I may as well tell you, I am also middle-aged, comfortably upholstered fat, unfit and I have arthritic knees which contain one less sound ligament in each than normal people's knees. This made me think, some years ago, that maybe I should eschew the idea of marathons or any other kind of run. Because I can't run, because my knees don't do that kind of thing any more, I can only walk, so I'd never qualify for a marathon. I wondered if I could find a cause I care about, with an event that has slightly less rigorous entry criteria, and try er hem … walking. Possibly even briskly (if I took enough chocolate along with me to power the effort) but never tracked one down.
I kind of gave up on the idea, I had a baby anyway, and we moved house and did child rearing and stuff. And it was all lost by the wayside for a bit. Except that in recent years, one night a year, hoards of ladies have walked past my house in flashing bunny ears. I wondered:
what on earth they were doing and
whether I should join in.
Two years ago I plucked up courage to open the door and ask one of them what was going on.
'Girls' Night Out,' she said.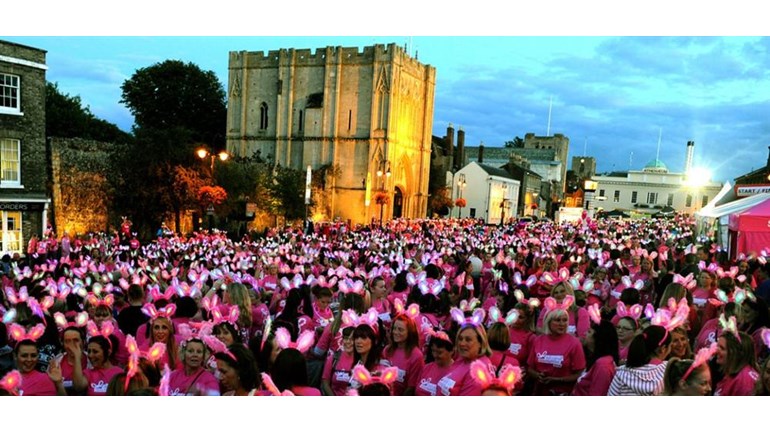 None the wiser I went and looked up Girls Night Out on the internet. It's a sponsored actual walk! For a fantastic place, our local hospice.
Last year I nearly joined in.
This year … I've signed up.
It's gentle 6k ramble round Bury St Edmunds, at night, wearing the aforementioned flashing bunny ears, yes, in the dark, in pyjamas. (Note to self: there are pyjamas and pyjamas, buy a set of pyjamas you can wear in public.) The local Hospice – St Nicholas' Hospice – were wonderful with a friend's relly when he was dying and since the question of hospices and hospice care is in my mind at the moment, for my parents, it is something that resonates with me. They ask each walker to try and raise £100 for them.
'Booyacka!' I thought when I read that. '£100 is easy money! I only need to persuade 20 people to give me a fiver. Surely that can't be too hard? And 6k? No problem.'
Except that while it might have been easy when I signed up, that was the end of the summer term. After 3 terms of going to the gym 3 times a week with only the shortest of breaks in between I was at the apogee of my yearly fitness levels and the lowest yearly knee pain level. Anyway the walk was ages away, I had time.
However, the date of this walk is now coming up fast. And it's in the first week of September, at my yearly fitness nadir, after I've spent 6 weeks drinking and eating more than usual, going on holiday, doing larks with McMini, ignoring my physiotherapy exercises or doing no exercise at all. Some of my shorts no longer fit and dressing myself each morning is more and more like draping camouflage netting over a Zeppelin.
Ah.
Indeed, now I've looked at the map and my thoughts are more like this:
'Fuckorama! What have I done? Can I even drag my fat bottom 3k, let alone 6?'
Yes, I'm facing Blimpageddon!
And on top of that, I see far fewer folk in the holidays than term so I have failed, epically, in my mission to persuade 20 people to give me a fiver – although one kind soul did give me £10 via Facebook. Thank you, you know who you are.
In short, it looks, very much, as if my effort at charity fundraising is going to die on its arse. But it could be worse! I am sure it will be great fun, we're going to the pub afterwards and I could have signed up for the 14k route.
So, the walk is on 10th September. I have about 3 weeks to try and get fit. Two of them are summer holiday blimp time so I will have to take moments out of eating, play and high octane resting to kick some donkey and get into shape.
On the up side, according to my Fitbit, I do walk about 5 miles every day, although I'm not 100% certain I can trust it. I mean, it thinks two hours sitting in my car driving to Sussex is a 5 mile run which either means it's hopelessly inaccurate or it's picked up on my mood and is lying to me to keep up my morale.
I am going to be updating my progress sporadically on the justgiving page they've … well … given me which is here. So if you want to read a bit more about my efforts I'll be mostly talking about it there or using the #GirlsNightOut hastag on twitter – although, depending on the quality and availability of wi-fi on our upcoming road trip, there may be a two week gap and one week's intense solid build up as I hone my athletic prowess.
If you want to take a look feel free, you can even sponsor me if you like. That said, sponsorship, though welcome, is certainly not required.
So here we are on Day 1 of my get fit drive. I have achieved 40 squats while cleaning my teeth and taken down a tent. Oh yeh. Go me.